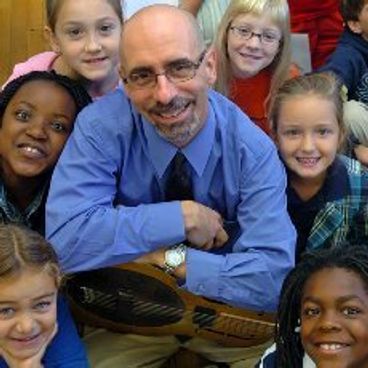 Accidents can create the best lessons
USA today
Accidents can create the best lessons
By Tracey Wong Briggs, USA TODAY
ASHEVILLE, N.C. — For Vince Floriani Jr., it's all about the teachable moment. When a math lesson on symmetry prompts a fourth-grader to ask about symmetrical words, Floriani is delighted.
"What kind of word is symmetrical?" he asks.
"A palindrome."
Palindromes — words and names that are spelled the same backward and forward, like Anna, Bob and Hannah — weren't on his lesson plan, but Floriani savors those unexpected nuggets that burble out of the 9- and 10-year-olds at Claxton Elementary School, where he has taught since 2001.
"At this point in my career, I'm confident I can be really spontaneous with them. I know I can have one of those teachable moments that's better than what I had planned," he says.
At 47, Floriani has worn many hats: Peace Corps volunteer teacher in Morocco and inner-city Baltimore, off-Broadway improv actor, journalist, high school band leader, award-winning singer/songwriter who still performs occasionally, husband and father of two.
And he taps all those parts of himself when he teaches, or rather, sets students up for learning. "I know how to make these kids think and laugh and take the kids to that moment. Very often, the teacher says too much. My job is to set things up so they can take that leap" to understanding, he says.
"He's very with it. … he doesn't miss much," says assistant principal Charlotte Moore. "He has this innate ability to be where he needs to be before they need it. He senses stress or lack of confidence. Part of it is his sensitivity as an artist."
At Claxton Elementary, an arts magnet school serving kids on both ends of the socioeconomic spectrum, Floriani often uses writing and arts in his teaching. Making model North Carolina lighthouses with simple circuitry schematics, for example, involves social studies, language arts and science.
Last year, after his class wrote a song about migrant workers, they wrote persuasive letters to a recording studio in Asheville to get studio time at a reduced rate. After raising money for the time, the class recorded its song on state-of-the-art equipment.
Floriani has taught kids of all ages but loves fourth grade, an age of unsuppressed imagination.
"Fourth-graders are not at all jaded," he says.
Fourth grade is also the first grade where North Carolina public schools students take a state writing assessment, and Floriani incorporates all kinds of writing into his lessons, from science lab reports to cartoon storyboarding.
"He is a masterful teacher of writing," Moore notes. "He really does inspire children."
Floriani keeps his guitar by his desk and sometimes uses songwriting workshops to teach science and social studies. To study the Ice Age, he strums as students sing the chorus before dividing into small groups to construct couplets. They work off background sheets describing different facets of the Ice Age, filling in worksheets to help generate rhyming words.
Living in the Ice Age
With lots of scat
It's really, really stinky
And that's a fact!
"How'd that feel on your tongue?" Floriani asks. "Is it clear? Does it flow?"
To another group trying to rhyme "bones," "phones" and "homes," he says, "I don't want three rhymes, I want two rhymes."
Before another group dissolves into hurt feelings, he gently mediates: "Remember, we're working with a group. You have to think if everyone is getting some input."
Building community is important to Floriani: "I want to work in a place where people care about each other. I'm not just teaching curriculum, I'm teaching kids."
•For audio clips of last year's class singing its migrant workers song, visit www.vincejunior.com.